Our quality starts first

Floorbamboo is convinced that the quality of a finished product depends on the raw
materials used. That's why we take such great care in selecting the types of bamboo
that are most suitable for being worked, using stems growing in the forests near the river
basins in the hill regions, with their fertile soil and damp climate. The culms must be 5
to 6 years old, with long, straight stalks and a robust, compact structure. Once the choice
has been made then work begins on transforming the bamboo into flooring elements,
guaranteeing a high-quality product that is extremely resistant and eco-sustainable.
Selection and cutting of bamboo.

The selected canes are worked to obtain strips of the same section. These are steamed
and dried to improve their stability and prevent mould and parasites. After this treatment,
the bamboo strips are pressed and worked in different ways to obtain three different
products: horizontal, vertical and strands, to meet the specific needs of each location
and the final aesthetic effect desired.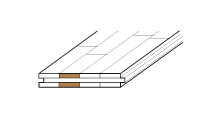 Horizontal
Natural And Carbonized
The strips are laid horizontally to create an overall effect where the distinctive knots
reveals the natural features of the bamboo. This gives the floor a natural oriental look.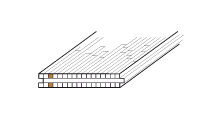 Vertical
Natural And Carbonized
The vertical assembly of bamboo strips where the impact of the natural knots
in the product is toned down to create a particularly compact, smooth look with almost
imperceptible knots. The result is a natural yet refined look that is both
original and elegant.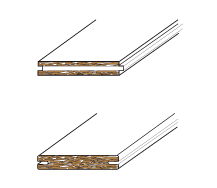 Strand
Natural And Carbonized
This technique involves pressing and assembling the bamboo fibres to provide stability
and high resistance to dents. Bamboo is the most resistant natural flooring material,
and is described as "natural steel". This process enhances the quality of the floor
and increases its hardness. The finished product is more resistant than any other
traditional parquet, and three times tougher than oak.

Heat Treated
This type of flooring is also available in a single-layer version of
heat-treated product for laying outdoors.


Hardness scale (Brinell scale Kg/mm2)
Test report issued by the CATAS organisation